We are committed to supplying only high quality and well designed kitchens. The kitchens we offer are available only through the trade to qualified building contractors. Because of our status we can offer these excellent quality kitchens at very competitive prices.
We offer every style of kitchen from traditional farmhouse to ultra modern chic. More than supplying and / or installing your kitchen, we have the means to carry out all work necessary. This is throughout the project lifecycle from the first measurements taken to cleaning up afterwards, including; all building work that may be necessary, moving or installing gas appliances and electrical sockets, building and installing cabinets, fitting all appliances (this includes boilers, radiators, cookers, American style fridge-freezers, water softeners etc), laying flooring, wall tiling and all of the decorating.
After we have been through the design with you, all you need to do is relax. Safe in the knowledge that with RoJo you can be truly confident that the entire kitchen project will be completed to the highest standards by our highly skilled, qualified and experienced craftsmen. We will also carry out all of the work swiftly and efficiently, causing the absolute minimum of disturbance and inconvenience to you.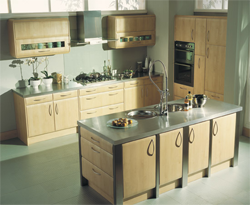 Kitchen Supply and Installation
2 Wensleydale Drive,
Camberley,
Surrey
GU15 1SP
01276 504806- 07973 971419
info@rojo-building.co.uk

Web: www.rojo-building.co.uk